Fall Tied Ribbon Wreath with Rustic Accents
---
[ad_1]

A fall tied ribbon wreath is a great way to include seasonal colors and textures in your home decor.  In this version, I used earth toned ribbons in a variety of materials, along with a metal leaf and wood buttons to add some natural flair.  Cut or torn fabric strips would make a pretty alternative for a more rustic fall wreath.
Here in my house, I decorate for fall overall more than specific holidays (mostly because I'm too lazy to redecorate the house over and over!) This wreath is the perfect fit. A ribbon wreath looks great hanging on a wall, but you can also use a small wreath like this as part of a centerpiece. Add a battery-operated pillar candle to the center and scatter some faux leaves around the table for some additional fall color. Pair the centerpiece with some other fall printables and projects for a full room of fall fun.
Make a Tied Ribbon Fall Wreath
You will need:
Craft foam wreath form (I used 8″)
Ribbon- a variety of widths, textures, colors, and patterns in desired colors
Acrylic paint in coordinating color
Buttons
Embroidery thread
Paintbrush
Fabric scissors
Fabric glue- Fabri-Tac is my favorite
For this wreath, I used a wreath form approximately 8″ in diameter.  Tip: Painting the front of the wreath using a brush and a coordinating acrylic paint color will camouflage the wreath form in case it happens to peek through the ribbons.
While the painted wreath form dries, cut several lengths of each ribbon type. To give your fall ribbon wreath the beautiful warm look of fall, choose ribbons in a mix of colors and textures. Try satin, velvet, burlap, woven, or even a shimmer or glitter ribbon for a touch of sparkle.
The amount of ribbon needed will vary, depending on the size of the wreath form and the width of the ribbon. My 8″ form required around 50 pieces of ribbon, each 10″ long.  Widths ranged from 1/2 to 1″.
Beginning with the widest ribbons, tie the pieces around the form. Space out each type to balance the colors and textures. Next, fill in the spaces with the narrower pieces, adjusting the position of the knots as necessary to cover any gaps.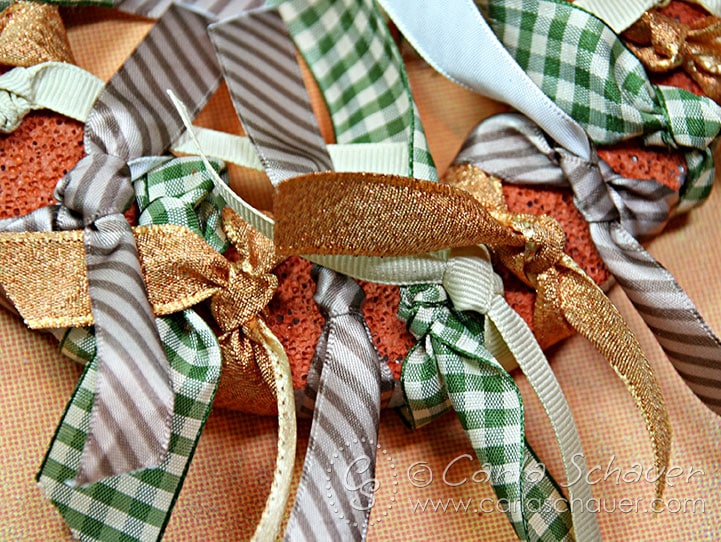 After all the ribbons are tied around the wreath form, the whole project might look a little scary.  Mine resembled a big autumn-colored ribbon Medusa.  No worries though, we'll fix that with a ribbon "haircut".

Use sharp fabric scissors to trim the ribbon ends to approximately 1.5 inches long, angling the ends to reduce fraying. Then, when all the ends are trimmed, the scary Medusa will be transformed into a pretty tied ribbon wreath ready for embellishing.
Tie orange embroidery floss through dark brown buttons and glue around the wreath to mimic berries. Add the large aged metal leaf as an accent.  Tie your other coordinating buttons with cream floss and glue on top of the leaf for additional coordinating color and texture.
With no time or labor-intensive techniques to deal with, this tied ribbon wreath can be assembled quickly and easily. Plus, it makes a great stash-buster project. You can use random ribbon spools or pieces that may be left over from previous projects.  Dive into your ribbon stash and make one today!
Making your Fall Decorations Later?
Too busy? No problem! Pin this wreath to your favorite fall Pinterest board so it's ready when you are. Your shares are how this site grows, and I am genuinely appreciative when you do.
Thanks for stopping by!
Carla
[ad_2]

Source link